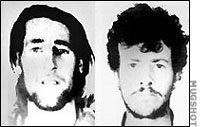 Kevin Crump & Allan Baker, mugshots
In rural New South Wales, Australia, Allan Baker and Kevin Crump murdered a complete stranger for $20, a packet of cigarettes and a couple of gallons of gasoline. Then, for no other reason other than that one of the men had once worked for her family as a farm hand, they kidnapped Virginia Morse, a young mother of three, from her home. Morse was raped and tortured repeatedly while Crump and Baker drove to neighboring Queensland. Next, they tied her to a tree and shot her execution-style.
When Crump and Baker were finally captured back in New South Wales, the fugitives had a running gun battle with police as their cars raced along a highway. A police officer was wounded in the car duel.
In the wake of their 1973 trial, the Australian public was left to ponder whether the two men were insane, or, even more chilling, whether their deeds were the result of rational minds gone astray.
Because Virginia Morse was killed in Queensland, New South Wales authorities could not charge the pair with her murder. Not wanting to extradite the two men, New South Wales police chose to charge them with conspiracy to murder Virginia Morse. But the New South Wales prosecutors didn't have to rely only on the Morse allegations. Their list of crimes also included the murder of Ian Lamb, the stranger, as well as wounding a policeman, and car theft, among other things.
It's no surprise that by their mid-twenties, Crump and Baker had extensive criminal records and had spent the majority of their lives in prison. Released within weeks of each other in 1973 they met up on a farm near Boggabilla in western New South Wales, where Baker worked as a hired hand. Crump had stolen a car at Aberdare and picked up Baker at the farm Nov. 2. The property owner was not surprised at Baker's abrupt departure since working conditions were poor due to recent rains.